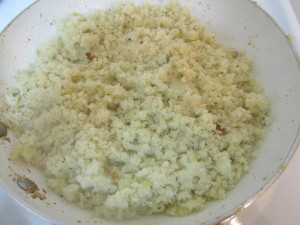 Surprisingly this actually tasted really yummy.  I have to say I did have my doubts, it surprised me.
Its really easy only ingredient is cauliflower.
Directions
I chopped up the cauliflower into florets, put it in the food processor until it had a rice consistency.
I then cut up some onion and garlic and pan cooked the cauliflower the the onion and garlic for about 10 min.  And voila its ready.
NB Its rice so you can make this into a fried rice or anything that you want.