Clearly i have been on a cauliflower kick… This vegetable is so versatile its amazing and i am hooked.
This pie was so melt in your mouth good, nutritious and filling.  Its the perfect meal just to sit eat and watch a movie.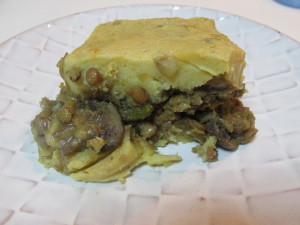 Ingredients
2 medium sized sweet potato. Peeled and diced
1 Head of cauliflower
1 cup of green/brown lentils
1 bell pepper sliced
1 carrot chopped
2 cups of sliced mushrooms
earth balance butter
Nut Milk/Soy milk
1 onion, diced
2 garlic cloves, diced
Instructions
Start cooking lentils first as they take the longest.  Saute in olive oil onion and garlic until tender.  Add bell pepper, carrot and lentils and about 2-3 cups of water. Add salt and pepper to taste.  Leave to cook for about 30-40 minutes until lentils are cooked and liquid has reduced.
Put sweet potatoes to boil
Put cauliflower to steam.  I didnt boil the cauliflower as it retains water and I didnt want a wet mash.  When cauliflower and sweet potato are tender put in food processor add butter and milk according to your own desired consistency and taste.  Add salt and pepper to taste
Saute mushrooms in garlic and olive oil until cooked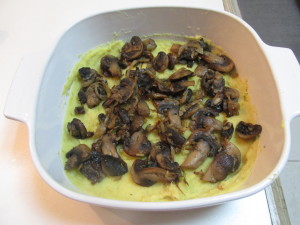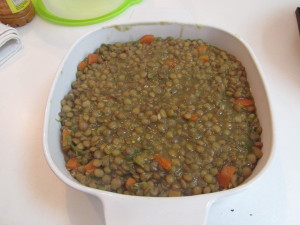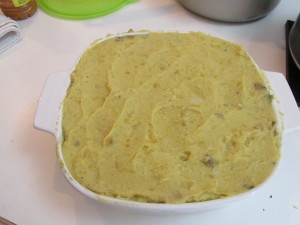 Now its time to just layer the dish:
potato cauliflower
lentils
mushrooms
potato cauliflower
Put in the oven to brown for about 20 min 350 degrees F